Centroptical Othalmic Opticians
Centroptical Othalmic Opticians Premium
A better Vision, a better Life from Centroptical. Premier Opticians in paphos
Address: Poseidonos Avenue; Opposite the Annabelle Hotel, Paphos, Cyprus
Website: Visit Website
Phone: 8000 5353
Email: info@centroptical.com
Mob: Fax: 26222845
Finding Cyprus discount card scheme accepted here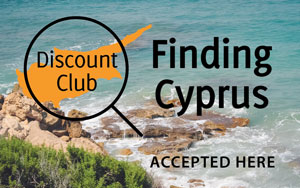 Details of Discounts

Maximum Discount Percentage 25%
Details of Discounts - 25% off all products indoors excluding special offers



Clear decision
Centroptical is a family owned business, highly professional, operating within a tight-knit framework and a friendly atmosphere.
Looking after your eyes
When you come for your free eye test, our professional staff will take the time to find out about your interests, activities and particular concerns. Whether it is bifocals, varifocals or contacts, our qualified optometrists will test, diagnose and prescribe the right eyewear for your lifestyle.
Our Services and Offers
Free Examination by qualified optometrists
Orthoptics and other visual problems
Varifocals and Bifocals in 24 hours

Download PDF's Below

designer sunglasses
sportswear
glasses
sportswear
glasses
eye test
sunglasses
contact lenses
varifocal
opticians
varifocal
eyewear
contact lenses
opticians
eye test
reading glasses
opticians
designer sunglasses
opticians
sportswear
eyewear
opticians
eye test
sunglasses
eyewear
reading glasses
sunglasses
glasses
eye test
opticians
reading glasses
sunglasses
contact lenses
glasses
eye test
Address
Poseidonos Avenue; Opposite the Annabelle Hotel, Paphos, Cyprus
Reviews
There are no reviews at this moment..
Write a review