Vangelis Optical House Premium
Optical Center on Tomb of the Kings Road
Address: 62 Tomb of the Kings Road, Panareti 2, Shop 1, Paphos, Cyprus
Website: Visit Website
Phone: 99596080
Email: vangelisopticalhouse@gmail.com
Mob: 99596080 Fax: 26930910
Finding Cyprus discount card scheme accepted here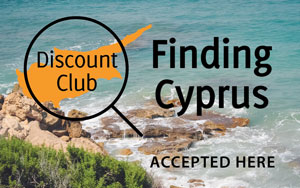 Details of Discounts

Maximum Discount Percentage 30%
Details of Discounts - 30 off all products excluding special offers



You can collect a free Finding Cyprus Discount Card at this business
The first optical online store in Cyprus has been arrived and you are here to meet your desired requirements and preferences at the lowest price.

Vangelis Optical House provides a huge collection of 100% authentic optical products taking always into account the customer's satisfaction.

Member of Cyprus Optical Association Free Eyetest Wide Selection of Frames Lenses and Sunglasses Single and Colour Contact Lenses Solutions Collection of Accessories

Our range of designer frames includes Ray Ban, Marc Jacobs, Roberto Cavalli, Tommy Hilfiger, Emporio Armani and Gucci and very competitive prices

Come in and browse our range of designer sunglasses which includes Ray Ban, Carrera, Giorgio Armani, Gucci, Hugo Boss, Marc Jacobs, Oxydo, Guess and Roberto Cavalli.

Explore now our exclusive offers:

Single vision lenses & frame from 49 euros Bifocals lenses & frame frame from 89 euros Progressive lenses & frame from 99 euros

SCHEDULE AN EYE TEST TODAY

Schedule your eye exam online with the independent or employed Doctor of Optometry by giving a call at Vangelis Optical House to make an appointment over the phone

Our Opening Hours are:

09.00 - 13.00 15.30 - 21.30 Monday - Saturday Closed Sundays

Winter:

09.00 - 13.00 14.00 - 17.30 Monday - Friday 09.00 - 13.00 Wednesdays and Saturdays

Closed Sundays

Don't find a specific product? Request it from us via email!

Currently Shipping is only available within Cyprus
Download PDF's Below

Address
62 Tomb of the Kings Road, Panareti 2, Shop 1, Paphos, Cyprus
Reviews
There are no reviews at this moment..
Write a review