Established in 1991 we offer beautifully crafted jewelry. We also offer laser repairs, rotary engraving, valuations and jewelry design.
Address: Arch. Makariou III Ave, Paphos, Cyprus
Website: Visit Website
Phone: 26952619
Email: ale@spidernet.com.cy
Mob: Fax:
Finding Cyprus discount card scheme accepted here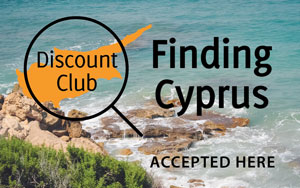 Details of Discounts

Maximum Discount Percentage 15%
Details of Discounts - 15% Discount on your purchase excluding sales items & special offers.


We specialize in diamonds, but at the same time we offer a complete collection of jewellery, both from our own workshop and very well known international brands, to satisfy every need and desire. Gemmology Laboratory * Certified Diamond Grader HRD
Address: 79-80 Poseidonas Avenue
Website: Visit Website
Phone: 26811630
Email: athos@athos.com.cy
Mob: Fax: 26934617
Finding Cyprus discount card scheme accepted here