EVZONAS is a leading furniture company in Paphos, holder of almost 40 percent of local furniture sales. We offer great value for money and the best price and quality guarantee on all of our products. Free assembling, and delivery in any place in Cyprus.
Address: 7 Makarios ave 8221 Chlorakas, Paphos Cyprus
Website: Visit Website
Phone: 26 945588
Email: evzonas.a@cytanet.com.cy
Mob: Fax: 26945151

Welcome to Evzonas Furniture store! We pride ourselves on the extensive collection of top Cyprus furniture, which will satisfy every taste, need or budget. Evzonas Furniture is located in Paphos and offers variety of brand names, furniture styles and interior accessories to bring a unique atmosphere to your home.
Evzonas Furniture is the place where you can find Cyprus best brand furniture for your living room, bedroom, dining and working area, and a lot more. At Evzonas you can find beds, sofas, dining sets, coffee tables, TV stands and home textiles.
Visit our new showroom in Paphos, at Chlorakas area.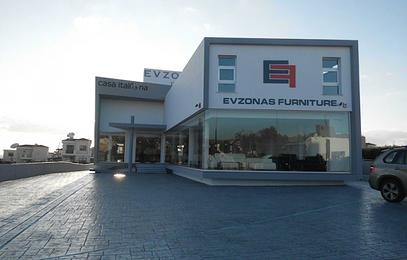 Evzonas is a leading furniture company in Paphos, Cyprus. Responsible for almost 40% of local furniture sales, we offer great value for money. Our prices are often 30% to 50% below those of our competitors. Customers keep coming back to us for the quality, price and after sales service and support we offer. Thanks to our focus on the Paphos area, we guarantee a quick response time for furniture delivery. As a local company, we take a personal approach to furniture sales. People know us and recommend us based on their experience. At Evzonas, we understand that furnishing your home is about comfort and peace of mind. When you shop in our store, you save money and time, and you get the best for less. We are committed to delivering good quality at the best price and we are right up to date with current global trends in furnishing. Free delivery is available on all orders.
Download PDF's Below

Itallian Classics
office furniture
kitchen furniture
office furniture
kitchen furniture
garden furniture
dining sets
furnitures
TV and wall units
sofas
TV and wall units
bedroom
furnitures
sofas
garden furniture
mattresses
sofas
Itallian Classics
sofas
office furniture
bedroom
sofas
garden furniture
dining sets
bedroom
mattresses
dining sets
kitchen furniture
garden furniture
sofas
mattresses
dining sets
furnitures
kitchen furniture
garden furniture
Address
7 Makarios ave 8221 Chlorakas, Paphos Cyprus
Reviews
There are no reviews at this moment..
Write a review